Transformation in the Caribbean Yoga Retreat: Mexico 2023
If you are...
Over-scheduled and your commitments don't allow you to fully prioritize your health, are in dire need to slow down, calm your mind, rejuvenate & transform your body, then join Hana Sykorova, yoga therapist and health coach, at Playa del Secreto (Secret Beach), in the Mexican Caribbean, for a 5-day inside & out makeover during March 27 – 31, 2023, and learn to live more consciously through yoga therapy and diet, to walk on a path of vitality and happiness.
Apply Here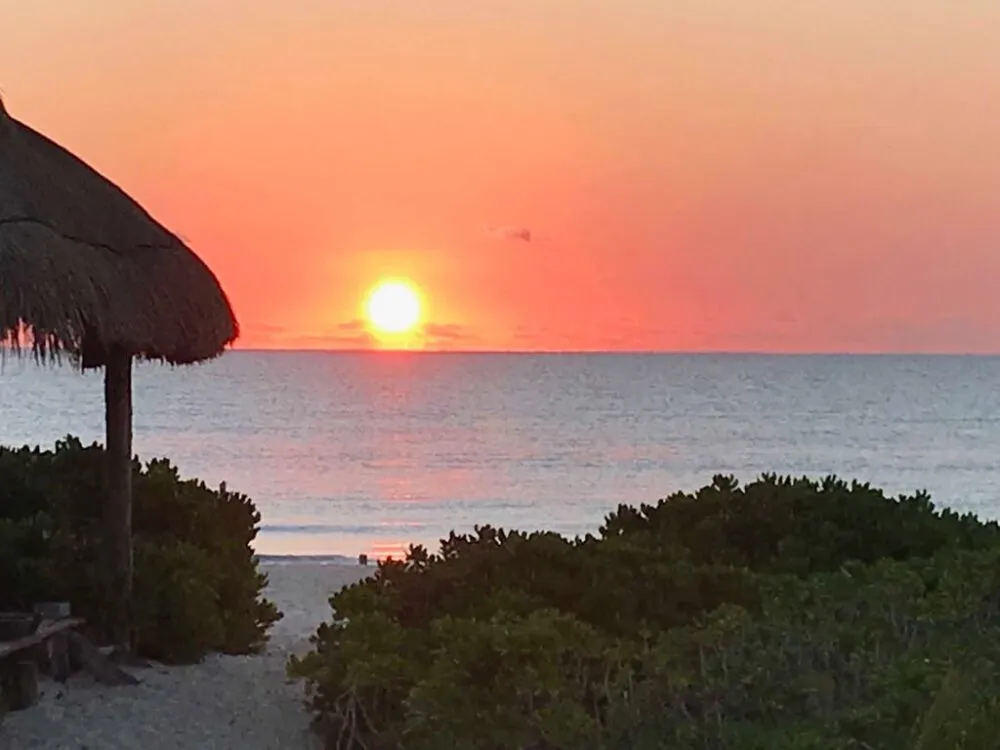 The symphony of exotic birds' chirping and the ocean breeze swaying palm trees from side to side wake you up from a deep night's rest. You slip into your favorite yoga clothes, splash water on your face and start your oil pulling routine as you walk into the kitchen to grab your ginger and lemon tea.
You walk onto the terrace and settle into your favorite chair to start watching the sun rising over the calm ocean waves crashing at the shore.
You observe the unbelievable collage of colors, smell the salt and bougambilia in the air as you acknowledge other yogis with a silent nod. "The light in me honors and bows to the light in you".
You walk barefoot through the white sand to settle onto your matt in your outdoor yoga studio. It's you time. Let the healing begin!
YOGA SECRETS WE'LL DISCUSS …
Wouldn't it be amazing to have your body function like a well-oiled machine?
During our time together, you will practice sunrise yoga on an empty stomach to teach your body to burn fat efficiently.
We will learn about the benefits of alkalizing the body with our morning tonics and through our multilevel yoga classes, you'll be able to get exercise appropriate for your level, whether you go to the gym regularly or hardly ever.
You will note that yoga is designed to leave you full of energy and zen to embrace the day rather than wiped out, requiring a nap.
How peaceful would if feel to disconnect your mind from work completely and be truly present?
On this retreat, at the end of our theme infused, open air yoga sessions alongside the ocean, we'll practice different breathing techniques appropriate for different moods, which will allow your mind to drop into stillness to feel blissfully present.
Wouldn't it feel great to have clarity on what's good for you to eat with so many diet fads out there that can leave us confused and frustrated?
During our discussions and around meal time, we will talk about food items that cause inflammation as a root cause of many health issues, so that you can feel confident in your food choices at all times to stay vibrantly healthy.
Wouldn't it feel fantastic to not be intimidated and unmotivated to cook for yourself?
On a couple of occasions during our retreat, we'll demonstrate preparing simple anti-inflammatory, super-food recipes to detoxify your body, so that you can easily replicate them at home and look forward to this time in the kitchen.
By the end of this retreat on our Secret Beach, you will have saluted the new, self-assured you, having learned to make your body function efficiently, gaining confidence over your food choices and in the kitchen, experiencing the zen of the present moment during yoga, breathwork & meditation, tapping into restorative sleep to burst with energy, acquiring control over your emotions by living according to rudimentary yogic philosophy for a full body, mind and soul rejuvenation, to set you on a path of long-term vitality and happiness.
This transformation is for me, sign me up, please!
HOUSING
Our retreat takes place at Casa Del Mar Bonito, a gorgeous villa situated on a private beach  (Playa del Secreto) with no rocks. The Playa del Secreto development, a gated community, is situated on perhaps the most beautiful glistening oceanfront in the Mayan Riviera of the Mexican Caribbean. The white sands stretch for about a mile with just fifteen private villas lining the beach. The closest hotel is more than half a mile away.
There are four room available at Casa del Mar Bonito. The Ocean Breeze room with one king and one single bed and the Buddha Room with two singles and a queen bed are available on a single, double or triple occupancy basis. The Mayan Princess and Palm Tree rooms (with king beds) are available on a single or double occupancy basis. (We can match you with a roommate).         
The forty-five foot pool is surrounded by fountains, gardens, palm trees, lounge areas, tables and a marvelous "in-pool" lounge. The pool is located in an unobservable courtyard to provide maximum privacy. The open living room, dining room and kitchen allows for casual interaction amongst the guests or even learning a recipe or two while peaking over the chef's shoulder. It offers a spectacular view of the ocean and the pool.
A wooden gazebo, also known as the Temple of Peace, built directly on the oceanfront, serves as an outdoor yoga studio, meditation temple and ceremonial space.
The exclusive custom made interiors and design of Casa Del Mar Bonito blend an eclectic variety of features including marble sculptures and fountains from Beijing, mosaic marble floors from Bali, hand carved mahogany doors from Indonesia and a conservatory brick domed ceiling completed by Mexican artisans for an overall romantic look.
The four magnificent and stately bedrooms with sturdy and decorative wooden frames accommodate up to ten guests at Casa Del Mar Bonito. All of the four bedrooms feature en-suite bathrooms, two have a direct beach and pool access, one is directly on the oceanfront and one with pool access.
Playa del Secreto is a gated sanctuary where you will find a beautiful residential community where villa owners are committed to preserving the area as an immaculate luxury destination. Should you stay in the region past the retreat, nearby activities include deep sea fishing, cave diving, Mayan ruins, jungle and canopy tours, horseback riding or golf. Casa Del Mar Bonito is a unique oasis that offers privacy and seclusion in a postcard perfect tropical ocean setting!
my heart says yes! i want to be there! sign me up please!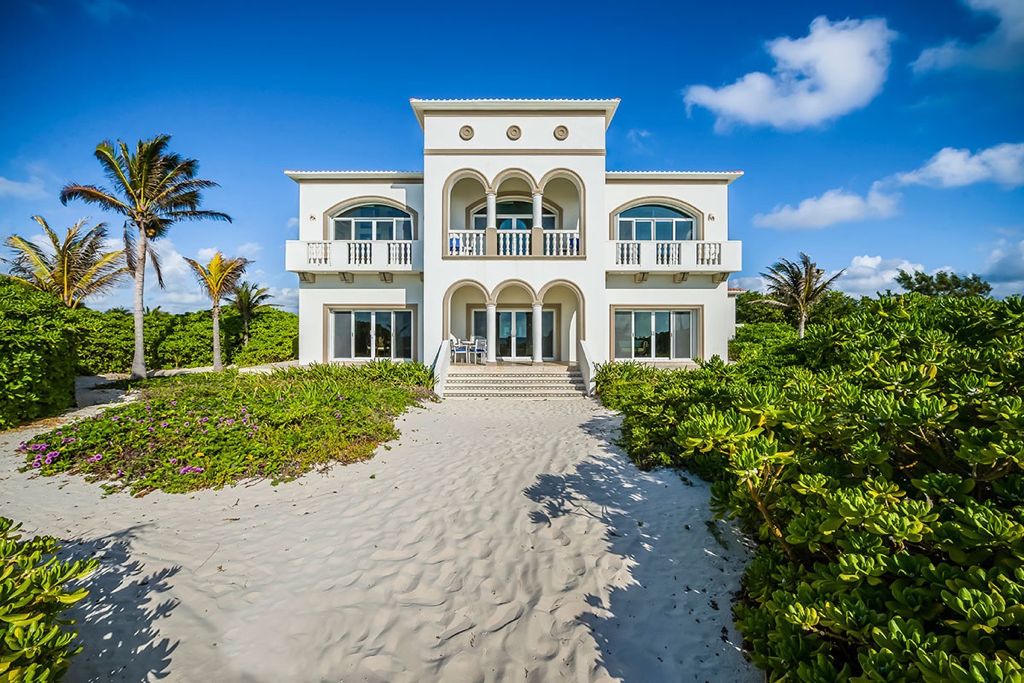 OUR PACKAGES
Fill out an application form and reserve your spot with a US $500 deposit, selecting whether you want a private room, or share with one or two roommates. We can help match you up with a roommate.
OCEAN BREEZE ROOM
1 King; 1 Single bed, private beach access, ensuite bathroom, walk in closet
Single Occupancy: $2,797/ person

 

Double Occupancy: $1,997/ person

 

Triple Occupancy: $1,749/ person

 
THE MAYAN PRINCESS ROOM 
1 King; private beach access, direct pool access, ensuite bathroom
Single Occupancy: $2,497/ person

Double Occupancy: $1,879/ person ($3,758/ 2 persons)
PALM TREE ROOM –
SOLD OUT
1 King; private beach access, direct pool access, ensuite bathroom
Single Occupancy: $2,497/ person

Double Occupancy: $1,879/ person ($3,758/ 2 persons)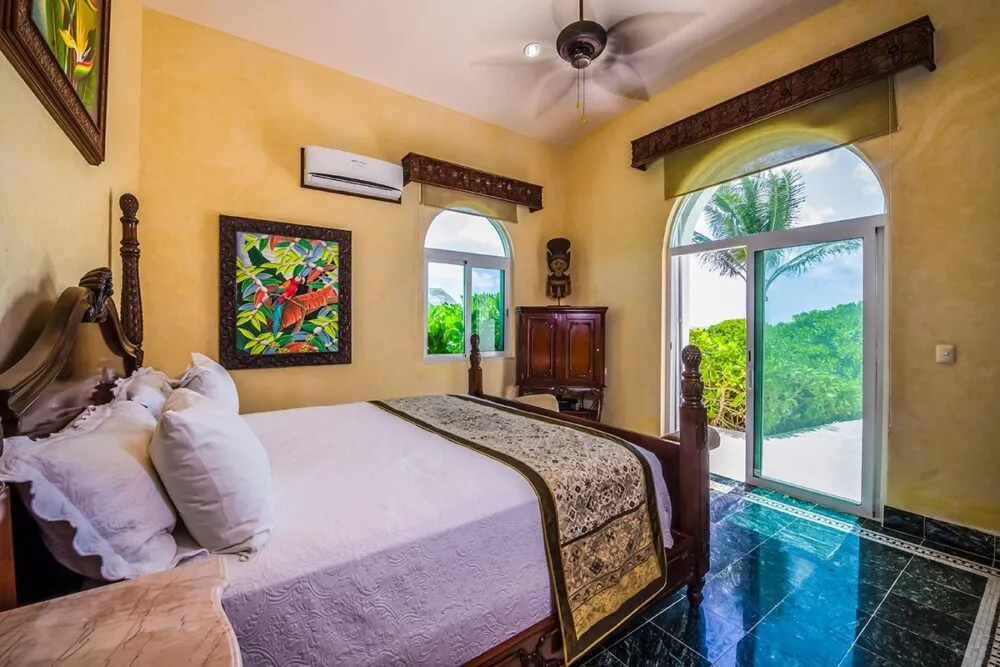 THE BUDDHA ROOM
SOLD OUT
This is Casa del Mar Bonito's converted yoga room. It now has 1 Queen and 2 Single beds, direct pool access, ensuite bathroom, sauna
Single Occupancy: $2,279/ person

Double Occupancy: $1,697/ person ($3,394/ 2 persons)

Triple Occupancy: $1,597/ person ($4,791/ 3 persons)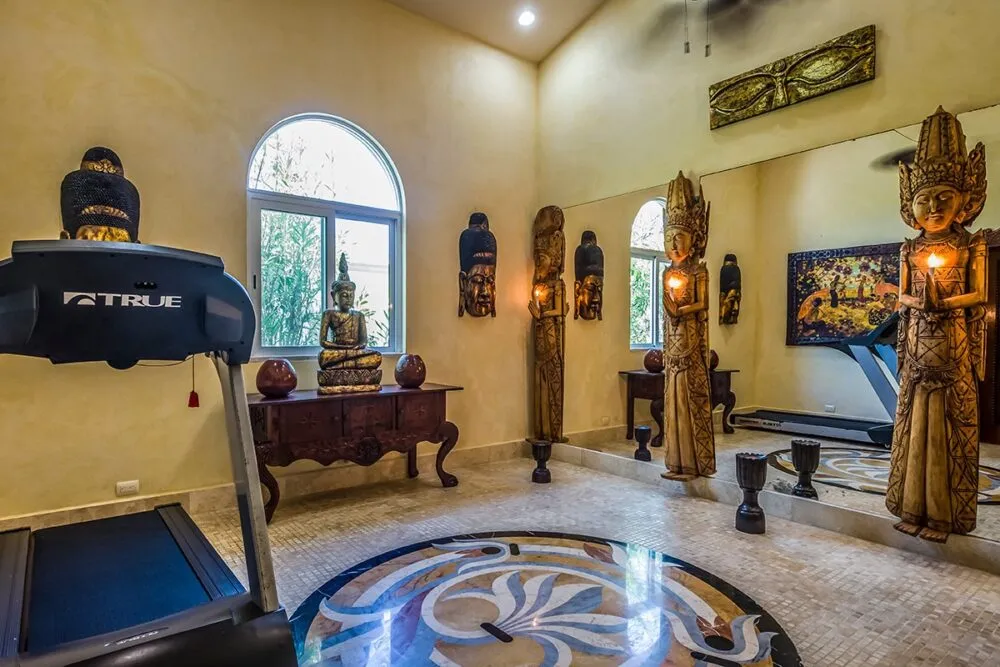 THE CUISINE
Food is Medicine! Your culinary experience at Playa del Secreto is designed to complement your transformation, will be freshly prepared using organic ingredients, vegetarian with gluten-free and completely plant-based choices and no processed sugar.
We will be serving anti-inflammatory infusions such as our cinnamon hibiscus tea or ginger lemonade and morning tonics that promote digestive health. You will experience a couple of cooking demos, learn how to effortlessly add local superfoods such as avocados or coconut into your diet to burst with energy, and even learn how to make your own, nourishing chocolate, using pure mayan cacao.
During our two trips to local restaurants, you will be free to order anything on the menu. As it is each participant's choice as to how far they would like to take their detoxification, alcoholic beverages such as beer, wine or a local margarita can be ordered at the villa at additional cost. We recommend no more than one to two drinks per day to keep you at a high vibrational frequency. You may find you will not even crave these on this trip!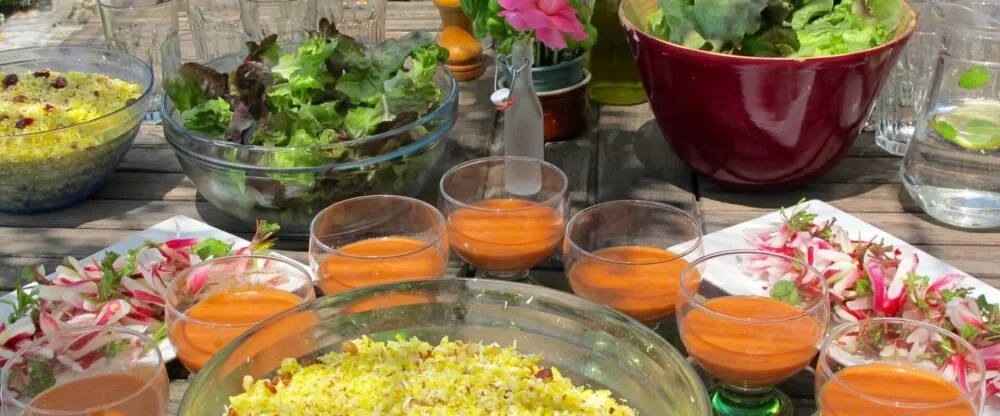 TOP 8 REASONS FOR NOT MISSING THIS RETREAT
Energizing sunrise yoga classes in our open-air, oceanfront yoga studio.
Evening yin yoga and yoga nidra to induce a state of calm and healing on a physical and energetic level.
Learning to meditate to calm the mind and put an end to negative thoughts.
Mayan Temazcal ceremony with a rebirth jump into an underwater river opening (cenote).
Discussions on an ideal night-time and yogic routine for restorative sleep and vitality.
Breathwork ceremony to activate the subconscious mind, allowing for transformation of limiting thoughts and release of suppressed emotions.
Discussion on rudimentary Yogic Philosophy, the Yamas & Niyamas, to live in a more conscious and happy state of being.
Anti-inflammatory, freshly prepared diet and cooking demos to burst with energy and give you confidence in the kitchen!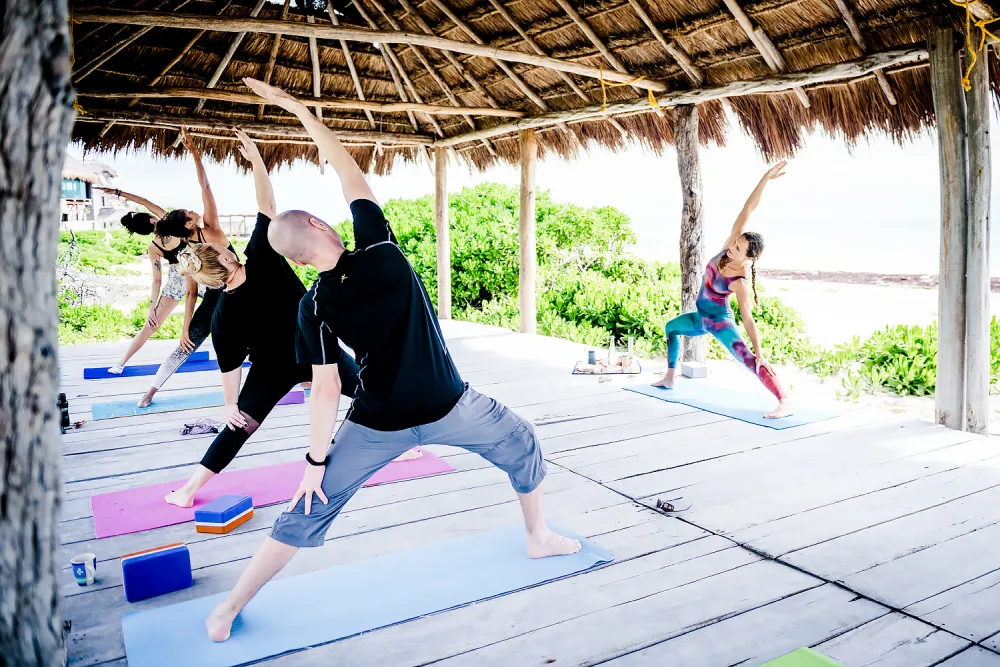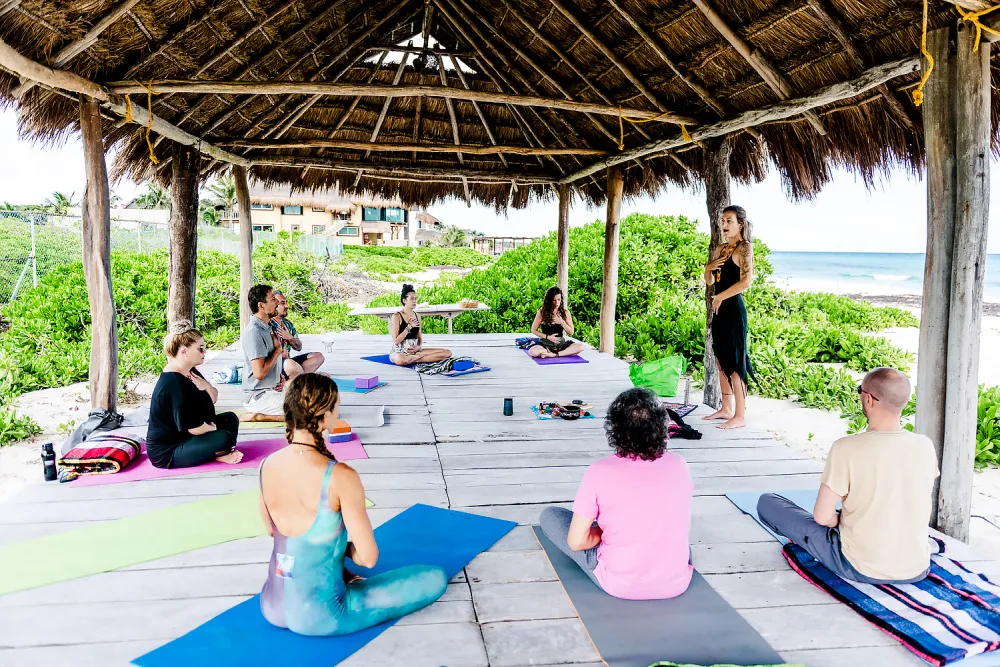 MORE YOGA SECRETS WE'LL DISCUSS…
How blissful would it feel to calm the fluctuations of your thoughts whenever you want to?
On this retreat, during our meditations, you'll learn to observe, reduce or completely eliminate any negative thoughts to melt any lingering anxiety away, which you can then easily implement into your daily routine upon your return home to soothe the chattering mind.
Wouldn't you love to learn how to continuously prioritize your health?
During our retreat, after our discussion on an ideal yogic routine, you will start to form habits that will become second nature over time and will naturally keep you on a path of health and vitality.
Wouldn't it feel empowering to experience moments of clarity on what's truly important to you?
On this retreat, during daily meditation practice, reflection and introspection, you'll be open to experience "a-ha" moments of clarity, to make lasting changes to your daily habits and leave what's no longer serving you behind.
During our sacred Breathwork ceremony, you'll be able to confront any suppressed emotions and take a look at their root causes that may be the reasons that have been holding you back from leading the life you truly want, to lead to change the path you're on for the better, for good.
Wouldn't it feel amazing to be in better control of your emotions and act rather than react when things don't go your way?
During our discussions and through our yoga themes and meditations, you'll learn to live in a more conscious state of being by learning about yogic philosophy, namely the Yamas and Niyamas, which are the basic yogic pillars to keep you on a path to happiness. You will start to perceive things as happening for you rather than to you, even if they don't go your way, as you'll see them as valuable lessons in your evolution to your best self.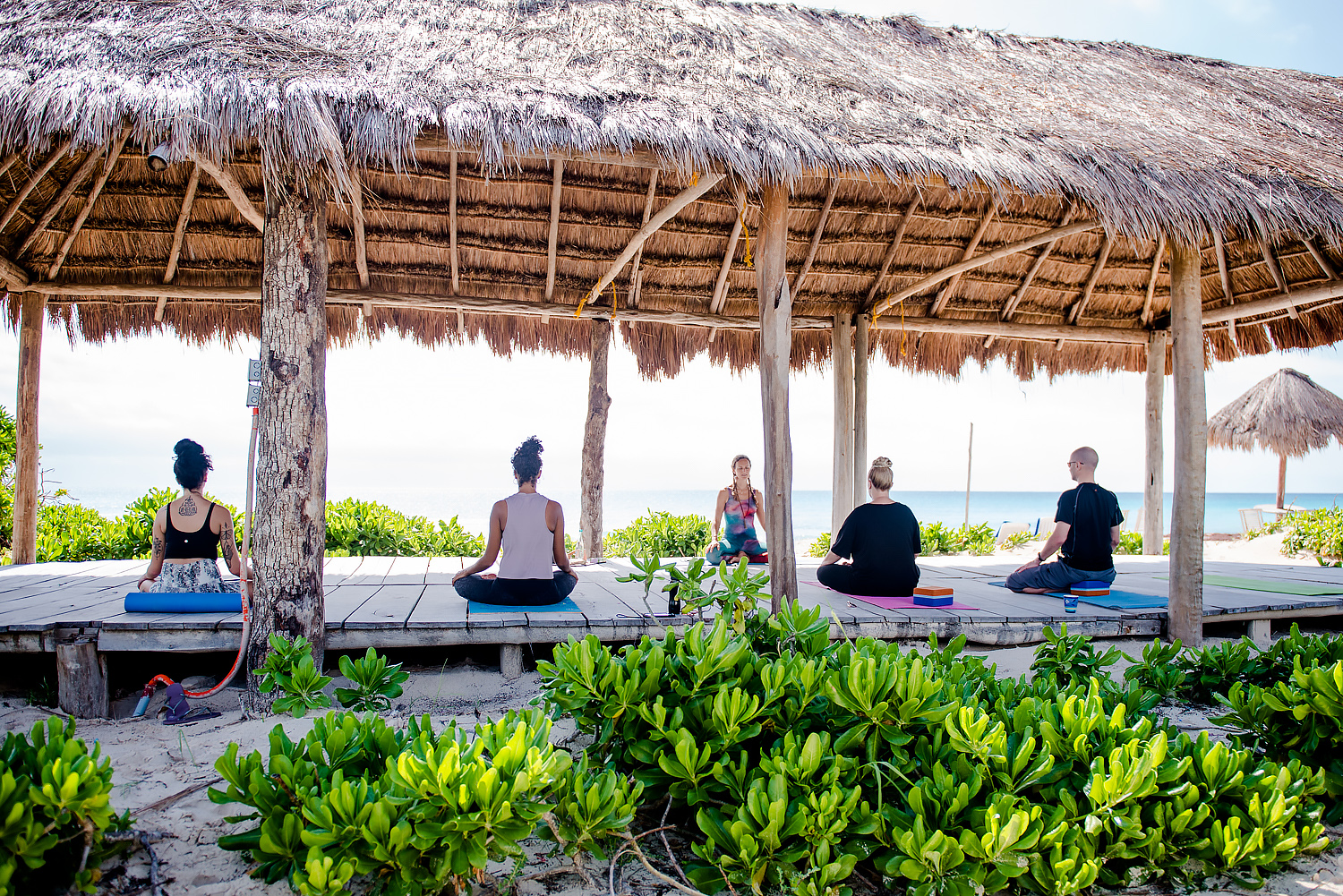 This journey is for you if…
You want to cultivate Self Love and Self Awareness.

You are ready to take time to nourish your body, mind and soul.

You enjoy or are curious about yoga and meditation.

You want to bring consciousness into your eating habits.

You want to learn and practice new tools for self-development.

You are ready to let go of what no longer serves you.

You want to connect with the ocean and beautiful natural places in the magical Mayan Riviera.
This journey is not for you if…
You don't want a time out of your busy life.
You don't want to be conscious about your eating.
You have no interest in improving your habits.
You are not into relaxed luxury.
You don't want to step out of your conditioning into greater freedom.
You don't want to get vulnerable or real.
You aren't interested in genuine transformation.
You don't desire supportive connection with other people.
OUR JOURNEY / ITINERARY
Day 1

: Arrive in the afternoon and get to know your surroundings by taking a stroll on the beach or relax in a hammock. Opening yin yoga to release any tension from your trip, followed by a meditation. Welcome diner, followed by a fire ceremony and intention setting. Stay on the beach for star gazing and/or tuck yourself into bed early.
Day 2

: Awaken to the sound of the exotic birds chirping and grab your morning tonic to settle onto the terrace to watch the sunrise in silence. Make your way to the outdoor yoga studio for an energizing yoga practice, followed by pranayama and meditation. Enjoy time in silence to journal, jump in the ocean or pool as you enjoy a nourishing green smoothie. Join everyone for a delicious breakfast. Time for our first discussion regarding an Ideal Yogic Routine according to Ayurveda, Nighttime Routine and Intermittent Fasting. Join us for a cooking demo before lunch. Enjoy time for yourself on the beach or by the pool. Relax during our sunset yin yoga, followed by your ideal self visualization. Get ready for dinner in Playa del Carmen and a visit to a local chocolatier Ah Cacao.
Day 3

: Watch the sunrise sipping an alkalizing tonic, energize with yoga, pranayama and chanting meditation. Enjoy your green smoothie and time in silence followed by a yummy breakfast. Leave for our transformative Temazcal Ceremony and cenote visit. Enjoy a beach lunch in Tulum and some downtime. Arrive home, shower and slip into your pjs or comfy clothes and learn how essential oils can improve your well-being during our presentation. Dinner followed by yoga nidra before you fall into a deep night's rest.
Day 4

: Watch the sunrise sipping an alkalizing tonic, energize with yoga, pranayama and chanting meditation. Enjoy your green smoothie and time in silence followed by a yummy breakfast. Time for our discussion regarding the Yoga Sutras, Eight Limbs of Yoga, Yamas and Niyamas. Join us for a cooking demonstration, followed by lunch. Enjoy time to yourself. Join us for a Breathwork Ceremony, sharing and closing. Enjoy our goodbye dinner and live music. Dance!
Day 5

: Watch the sunrise sipping an alkalizing tonic, energize with yoga, pranayama and chanting meditation. Enjoy your green smoothie and time in silence followed by our goodbye brunch. Enjoy the premises as you wish before heading to the airport by 1pm. Namaste
4 nights' accommodation at a luxurious villa on a private beach with a gorgeous pool.
Daily 1-2 open-air yoga classes on a glistening ocean-front.
Daily pranayama, meditation, visualization or mantra chanting to take control of your mind.
Yogic philosophy (yamas and niyamas) and other discussions on living more consciously
Cooking demos to give you confidence in the kitchen.
Daily alkalizing tonic, green smoothie, breakfast.
Daily lunch and dinner freshly prepared at the villa (except for one lunch and one dinner out).
Transformational Breathwork Ceremony to release limiting beliefs.
Hydrating tea and herbal infusions.
Airfare.
One lunch and one dinner at restaurants.
Alcoholic drinks.
Airport pick up and drop off (we can arrange a taxi for you).
Massage or reiki.
Temazcal Ceremony (is arranged but payable at additional cost: USD $50 – $75 based on final headcount).
ABOUT ME – HANA SYKOROVA, YOUR TRANSFORMATION CATALYST 
I discovered yoga at university while recovering from a running injury and quickly realized it wasn't just the physical benefits of a flexible and balanced body that would make her a yoga convert. The improved ability to concentrate and stay calm while balancing a busy life in New York City and competing in Ironman triathlons at an elite level, the improved clarity by connecting with my intuitive side and living life from the heart, soon became apparent as additional benefits and a way of living.
I left the corporate world eight years ago and became certified as a RYT 200 teacher by the Kula Collective in Troncones, Mexico, received my RYT 85 Prenatal Yoga Teacher certification in Rishikesh, India, also known as the world's yoga capital, and came back to my Tribe, the Kula Collective, in Guatemala, to receive my RYT 300 hours certification, deepening my hatha, vinyasa, pranayama, meditation, restorative and yin yoga teaching skills to incorporate the mystical tradition of shamanism, reiki & energetic healing, breathwork, yoga nidra, sound healing or essential oil therapy. This year, I incorporated Michael Gannon's Power Vinyasa 100 hours training to my repertoire, working on killer arm balances and inversions.
Whilst competing at an elite level at Ironman triathlons, I had the realization that it wasn't necessarily more training that was going to make me faster, but rather better recovery through practices such as yin yoga, meditation, visualization, and appropriate nutrition. When I put all those into practice, I won Ironman Nice in 2016, to both my and my coach's surprise. I became passionate about sharing these yoga secrets with the world and I love to be a transformation guide in teaching our bodies to function efficiently, get deep, restorative sleep to come into a state of natural healing, nourish our bodies with the appropriate nutrients and live more consciously in all aspects of our life to become the best versions of ourselves.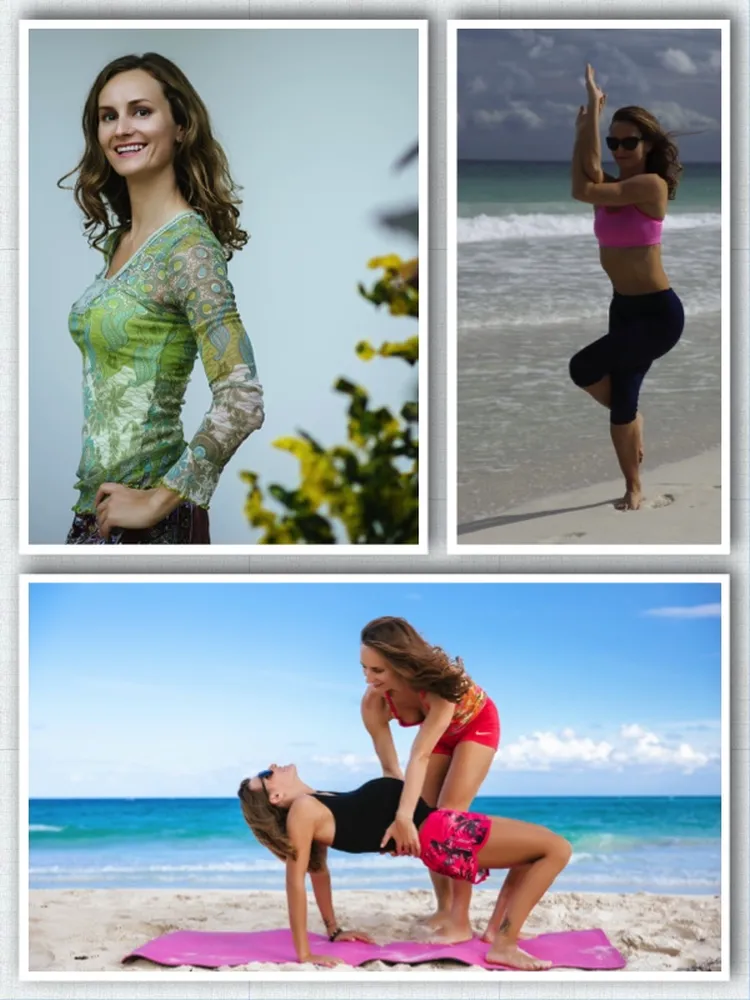 LOCATION & FLIGHTS
Please book your flight to arrive at Cancun Airport (CAN). We strongly suggest purchasing travel insurance at the time of booking your flight in the event that the retreat should be cancelled for any reason. You will be heading to Playa del Secreto, 20 minutes South of Cancun Airport. Once we receive your flight info, we can book your transportation from the airport (at additional cost).
SPA TREATMENTS
Massage and reiki treatments can be booked at additional cost.
The maximum number of participants is 15 to allow for personalized attention during the yoga, pranayama, meditation classes and philosophy discussions. Booking is on a first come first serve basis, upon approval of the booking form, and is based on room type and single, double or triple occupancy at the main villa. Additional housing will be available at nearby walking distance villas and price will be quoted based on group size once capacity is reached at the main villa.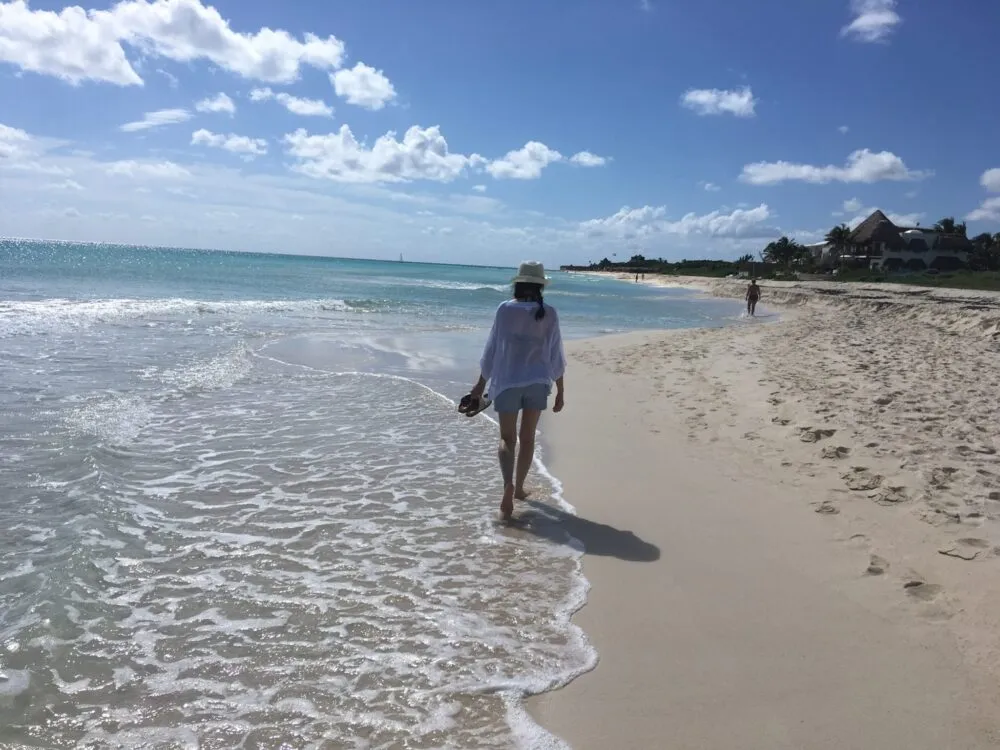 WHAT PAST RETREAT PARTICIPANTS HAVE TO SHARE
"If you are a first time retreat goer or regular, I promise the pictures don't lie – what you see is even more beautiful in person. Hana's retreats are so accessible and reasonably priced for everything you will receive from her personally as an instructor and what you can gain yourself from being around like-minded individuals, disconnected, and focusing on yourself. Hana is very passionate which you can easily see in all retreat themes/details, dedicated to helping her clients no matter your goals/level, and truly inspiring as she continues to evolve her craft and retreat offerings.
You should also consider taking advantages of the extra options to try something new and experience local things you will never hear about in these tourist areas. She will always do what she can to make adjustments before or during your stay and ensure that her clients are happy and content. Even the local staff/team goes the extra mile by making me a special batch of their famous green habanero sauce to takeaway back to Europe 🙂
Perhaps I will see/meet you at the next retreat! Namaste."
"It so happened that the Jaya Hana Reboot & Regain Your Inner Balance Retreat came up on my radar right as I was dying for a break on the beach…
I can honestly say the retreat was spectacular! A life-changing experience that will stay with me for a long time.
A few of the highlights:
-The Temazcal ceremony had some moments that will stay with me forever. It made me realize how important those moments are to keep moving forward in life, which was something our retreat host had talked about the evening before.
-I enjoyed taking the yoga classes so much, that I was motivated to completely change my training and workout routine to include daily yoga and pilates – literally the night after I returned home. Classes at my local studio were mellower and easier than the retreat classes, which stretched me to feel my practice advance. I am now incorporating yoga into my training going forward.
-I felt a huge amount of "stuck" pain in my pelvis/lower back during a breathing ritual, and now that I'm aware of it, I've been using yoga to release it, with visible benefits to posture and well-being after just a couple of weeks! My weight training has also improved.
-My attitude is much more positive. I lost my laptop at the airport on my way home from the retreat. Normally this would be very upsetting; this time it wasn't. It was an old laptop and I knew I needed a replacement, so I just ordered the new one and kept smiling…
-The food was incredible! Fresh, raw, handmade, delicious! I'm a devout carnivore, but I really enjoyed the vegan dishes with incredible local village produce. The instructors are clearly passionate about cooking and health. One of my favorite dishes was fresh coconut pancakes with strawberries and coconut puree – just incredible! The fresh juices and salsas were also fantastic.
-The retreat was a perfect balance of intense and relaxed. Classes, discussions and rituals were serious and meditative. Social interaction was pleasant and low-key. Excursions were exciting and private. And, if you really wanted it, there was a chance for a sip of wine or a little ceviche at the right moment. Perfect!
Overall, I'm managing my day-to-day challenges far better now, so that I can enjoy some of the amazing things that seem to be happening in life!
Go spend some time with Jayahana! You won't regret it! "
"The most amazing experience! Thank you, looking forward to coming again as soon as I can "
"Definitely a five star retreat. The yoga sessions were the best ever! I have been a fan of yin yoga for a long time but this level was very releasing in physical and spiritual ways.
The vinyasa sessions were perfectly set up to start light and gently strengthening during the following days.
The food was delicious. I never thought I would end un loving vegan food. We were always given an explanation of the ingredients, what they were good for and how they were prepared. Can't wait to prepare them at home.
The company could't of been better. I am very thankful for my new friends. Love you all!
The location can only be described as paradise on earth. Really, really awesome!
Thank you so much for this extraordinary experience Hana and Juli.
Love, Laura"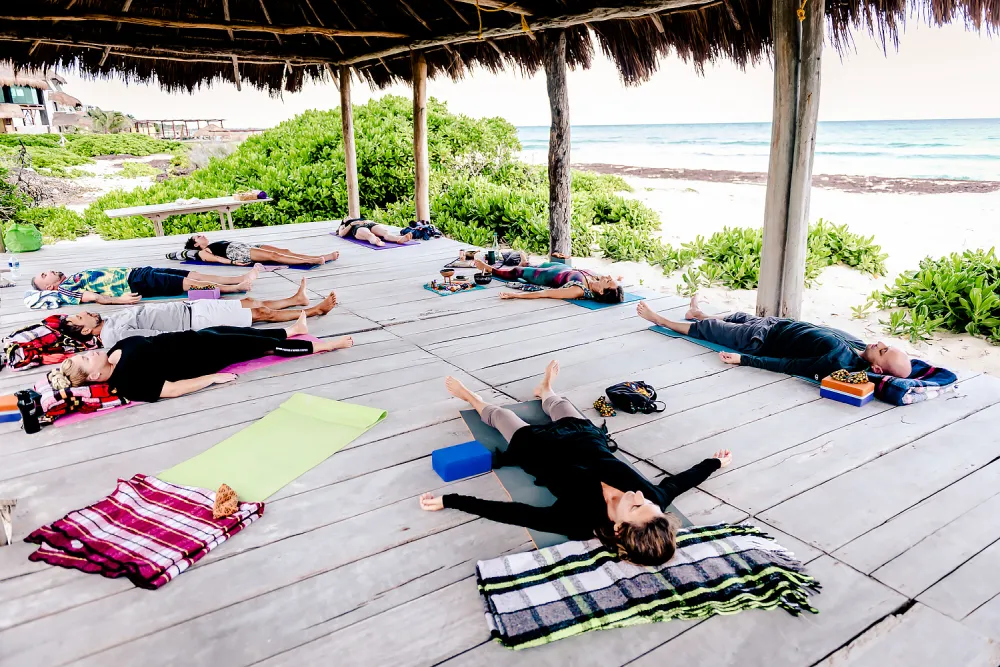 A US $500 Deposit is required to reserve your spot and is fully refundable until January 15th, 2023. The remainder of the payment is due by February 15th, 2023. A 3% charge is added to credit card payments. 
CANCELLATION POLICY:
Your deposit is fully refundable up until January 15th, 2023. Any cancellation after that results in a total loss of funds. We reserve the right to cancel the trip if it is not meeting the trip minimum (if we do so, your deposit is refunded in full). We reserve the right to determine if you are not a good fit for this trip (if we do so your deposit will be refunded in full). Trip cancellation insurance is always recommended whenever making travel plans/ booking your flight. Participation in the retreat can be transferred to another participant, subject to the organizers' approval.
I AM IN!
APPLY BY FILLING OUT THE BOOKING FORM BELOW:
Select your preferred room and whether you want to share (on a double or triple occupancy basis and would like a roommate match).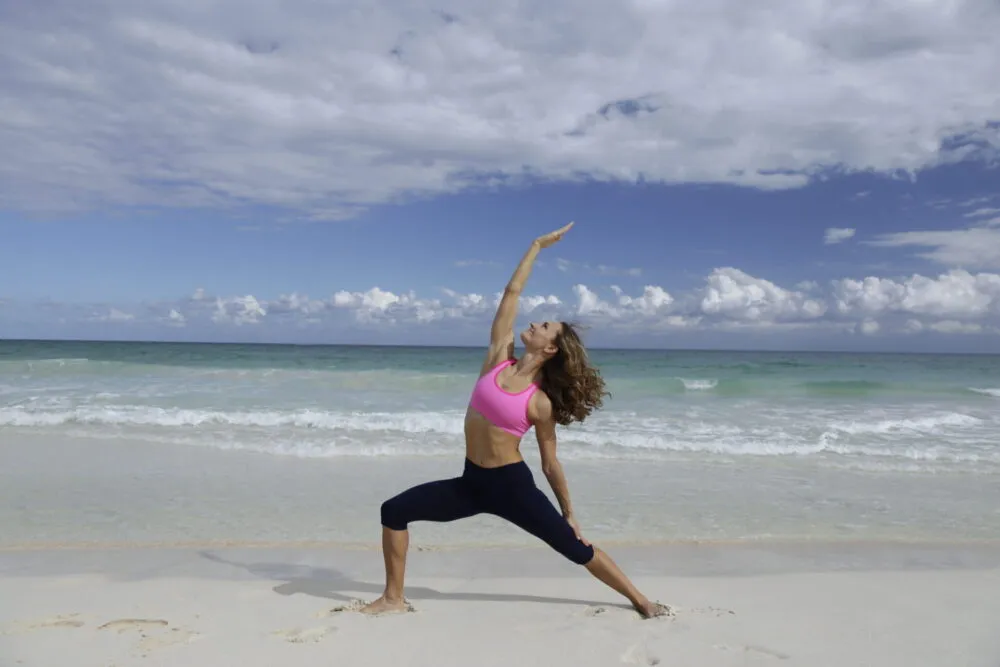 Transformation in the Caribbean Yoga Retreat: MEXICO 2023
27/03/2023 – 31/03/2023
3:00 pm – 12:00 pm
Playa del Secreto
$500.00 Deposit to secure your spot

Conscious Eating

Meditation

Retreat

Yoga
Rejuvenation
Oceanfront
Mindfulness
Breathwork
Temazcal

 

Transformation

Riviera Maya